Creative SUSHI rolls are very popular in Europe and the United States.
These sushi rolls may look difficult to make, but once you master them, they will be very popular at parties! Once you learn how to roll it, you can enjoy various flavors by arranging it. This time it is spicy tuna.
Every local in Guam must have Sriracha mayo in their refrigerator! It tastes even better with this as a topping. You can find it at Tokyo Mart, of course.
Ingredients     (4 Servings)
1.5 cup                Cooked rice
2 Tbsp                 Mizkan SUSHI Vinegar
8 oz                  TUNA FISH (LOCAL) chunk loins
1/2 piece     Cucumber
2 sheets              Seaweed
Some                  Black Sesame
Some                  SRIRACHA mayonnaise SAUSE
(A)
* 2 Tbsp            KEWPIE MAYONNAISE
* 1/2 Tbsp         RED MAMA (LOCAL)
* 1/2 Tbsp         NINBEN TSUYU NO MOTO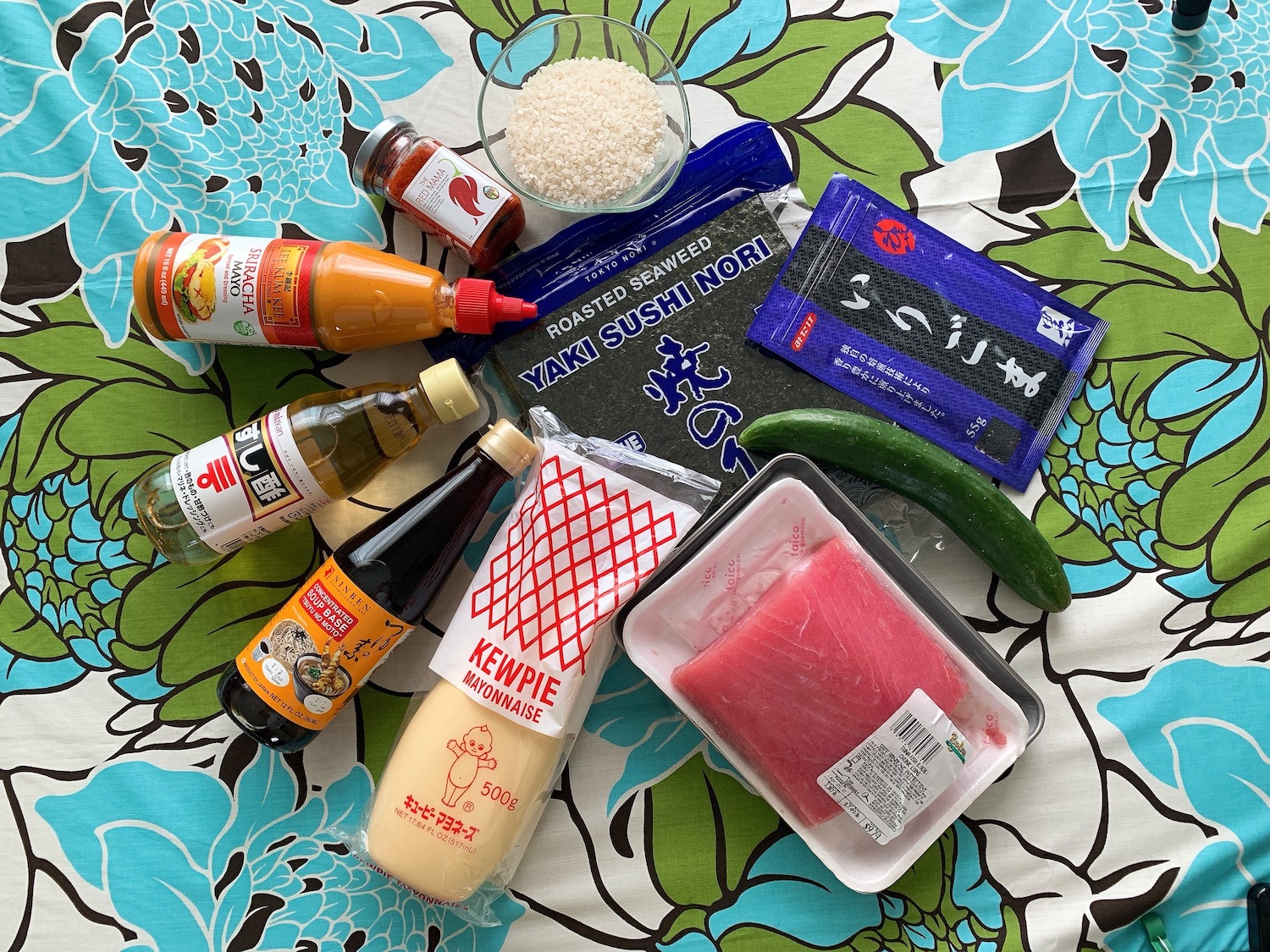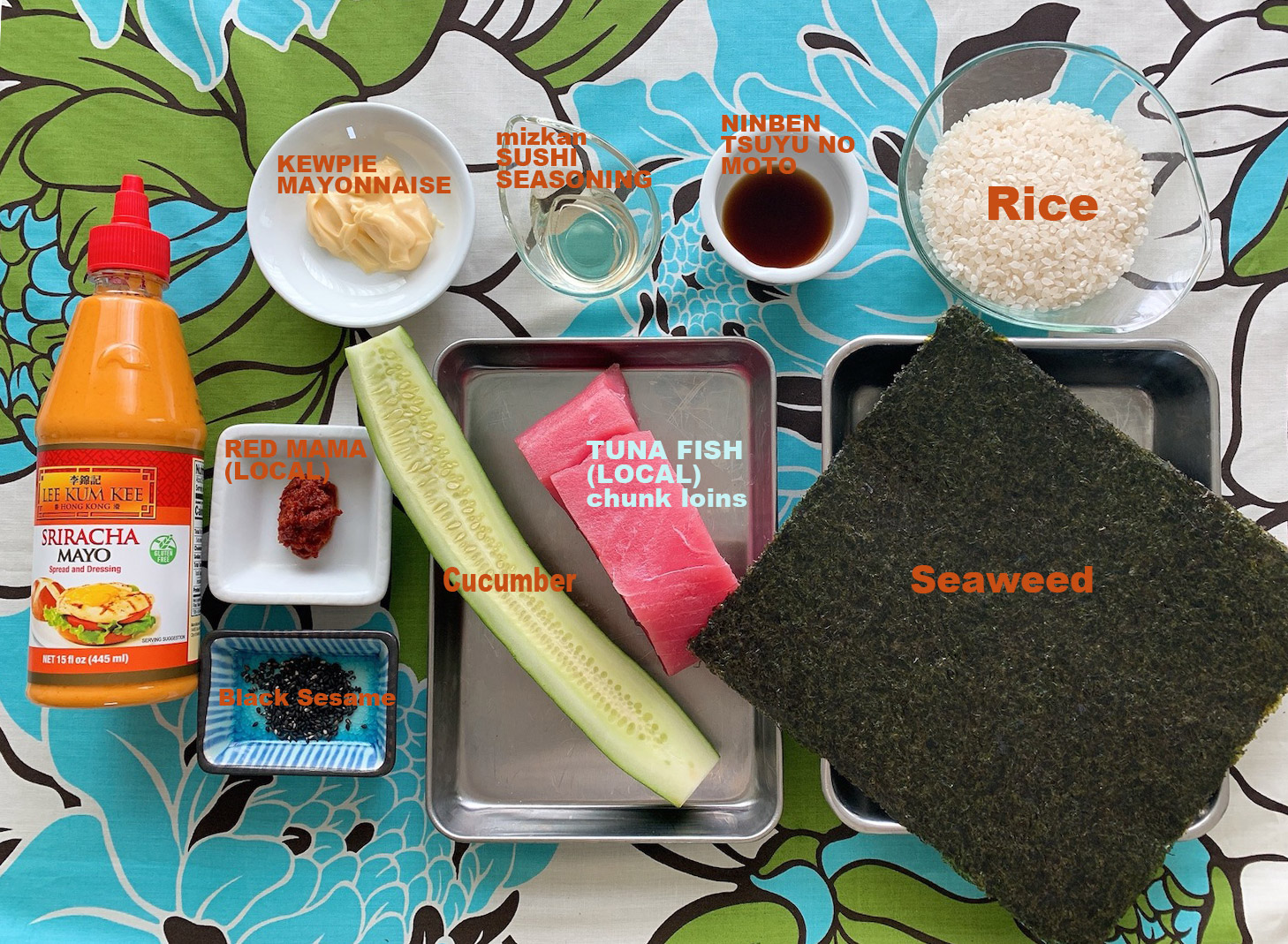 Instructions
① Add Mitsukan Sushi Vinegar to cooked rice and mix as if cutting.
② Cut the cucumber lengthwise and remove the seeds.Cut cucumber into 8 thin strips.
③ Cut the tuna into coarse chunks.
④ Add MIX (A) mayonnaise, Ninben tsuyu no moto, and Red Mama to tuna.
⑤ Cut the long side of the seaweed in half.If you fold it in half, you can easily cut it.
ONE POINT ADVISE : The shiny side of the seaweed is the front
and the rough side is the back.Cut the long side of the 
seaweed in half.If you fold it in half, you can easily cut it.
(Please check in Youtube!)
⑥ Wrap a piece of plastic wrap around a sushi mat and place a piece of nori on top.
⑦ Spread the sushi rice thinly and flatly on the nori and sprinkle the black sesame seeds evenly on top.
⑧ Turn the seaweed over.Place the spicy tuna and two cucumbers on the front side of the seaweed.Roll up the entire roll and shape it.
⑨ Cut into 8 equal pieces with a wet knife.Top with SRIRACHA mayonnaise and you're done!
📌 Roll the sushi rice after it has cooled completely.
📌 When cutting the sushi rolls, moisten the knife each time to ensure a clean cut.
I made spicy tuna rolls using Red Mama, which is handmade by Japanese people in Guam this time. Red Mama is a spice that brings out the flavor of the ingredients, making it perfect for spicy tuna.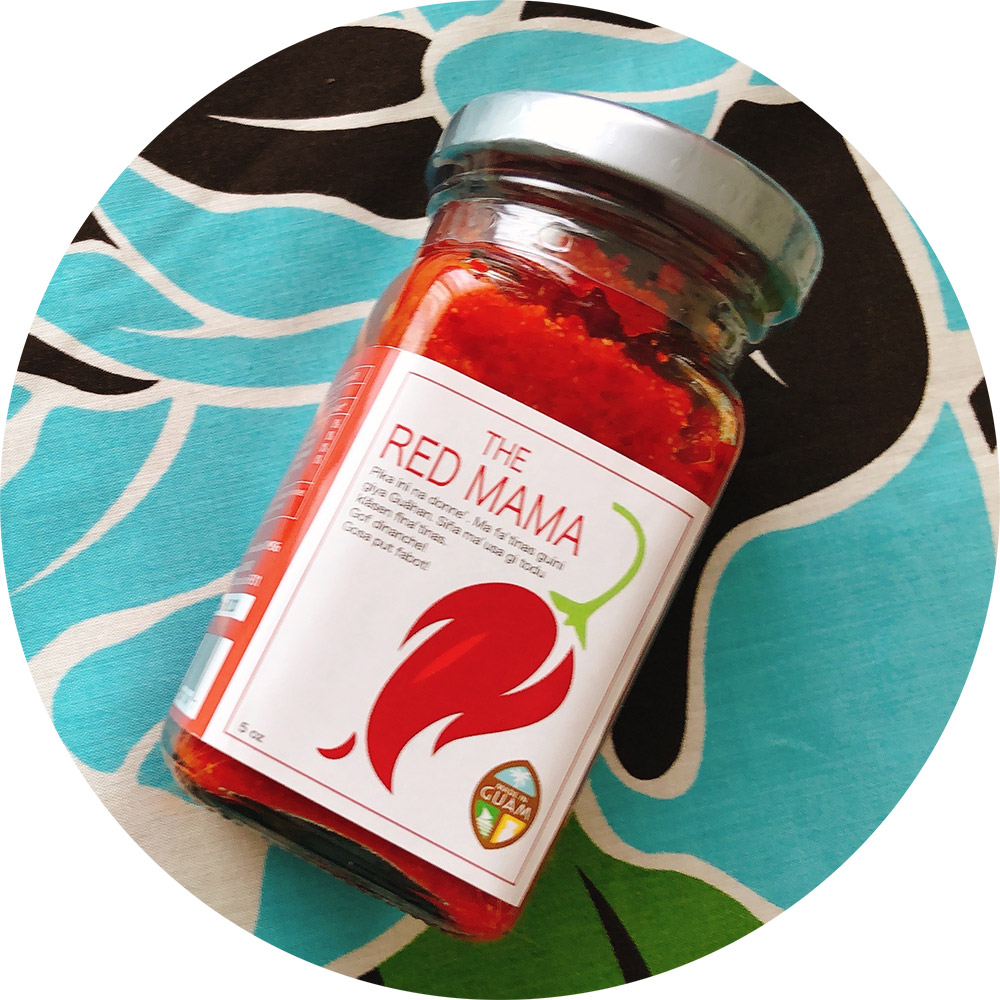 Click here to see a video of a recipe for a cafe-style sandwich from CAT CREA (closed two years ago).
❤︎ You can make INARI sushi together, It's going to be a big hit! ❤︎
Click here for INARI Sushi recipe! 
You can see recipes in the video as well.⬇️