[TERIYAKI] is a popular menu item in Guam, and you can easily make it at home with MENTSUYU.
Juicy and tender chicken glazed in a flavorful homemade sauce,this classic Chicken Teriyaki
prepared in the authentic Japanese cooking method no bottled teriyaki sauce needed!
Ingredients     (4 Servings)
4 pieces (1.3 lb.) skin on chicken thigh
Seasoning

2 oz         NINBEN TSUYU NO MOTO
4 oz         water
1 TBSP    sugar
1 TBSP    oil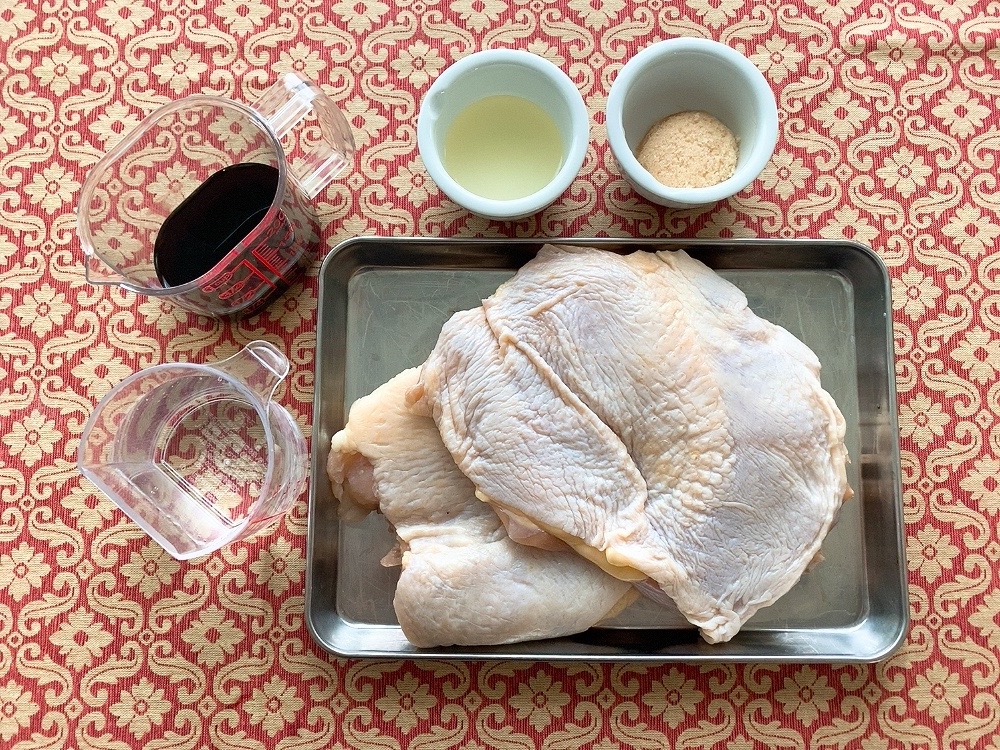 Instructions
①  Arrange the chicken pieces evenly in thickness.Cut into pieces that are easy to cook.
②     Put oil in a medium pan over medium heat. Grill chicken, skin side down, for about 3 minutes.
③  Turn chicken over and cook for about 3 minutes. Wipe off the excess oil with a paper towel.
④  Add water, skin side down. Add sugar. Add Ninben Tsuya No Moto. Simmer over medium-low heat for about 3 minutes. Turn over and cook for another 3 minutes. Then remove the chicken.
⑤    Turn off the heat when the bubbles become large. Pour a sauce.
⑥    Serve the cut chicken on a plate and sprinkle with sauce
📌  Cooking the chicken in oil will help release the oil. The skin is crispy and it tastes good even when it is cold.
📌  Teriyaki is the use of a sweet sauce based on soy sauce. With MENTSUYU, you can do it in just one frying pan.
   ★ What is [TERIYAKI]?
Teriyaki is the name of a cooking method,not the name of a sauce. This Japanese cooking method is to pan fry or grill the fish or meat,and cooked in the sauce or brushed with the glazeuntil it has a nice and delicious luster.
 ★ 💁 With MENTSUYU, the variety of Japanese food menus will     increase rapidly. Let's start with teriyaki chicken and master it.
Click here to see a menu that can be easily prepared with the all-purpose seasoning MENTSUYU.
You can see recipes in the video as well.⬇️