Takoyaki (Samurai ball) is one of Japan's most popular street foods.
Takoyaki is a Japanese snack in the shape of little round balls containing pieces of octopus. TAKOYAKI literally translates to "octopus-grilled/fried".

They are known as "samurai balls" to foreigners visiting Japan. Guam also has food stalls.
Ingredients     (40pieces)
1 1/2 cup            NISSHIN TAKOYAKI KO
2 1/2 cup            Cold water
2 pieces               Eggs
5 oz                     Octopus
1 oz                     TENKASU (FRIED WHEAT FLOUR)
1 oz                     BENI SHOGA (RED PICKLED GINGER )
1 oz                     Green onion
Some                   Oil
Topping
As needed                       Bull-Dog TAKOYAKI SAUSE
As needed         DRIED BONITO
As needed                       AONORI (DRIED SEAWEED)
As needed             Kewpie Mayonnaise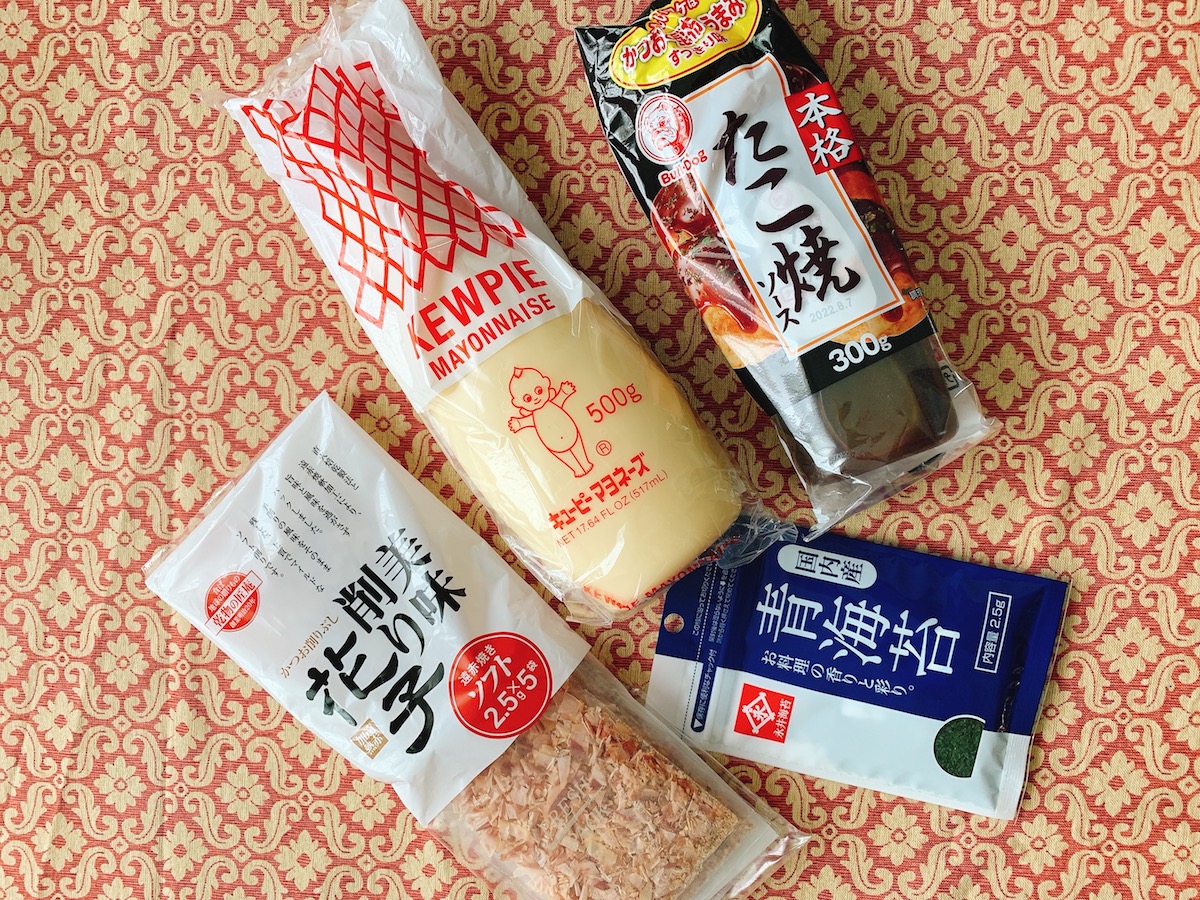 Instructions
①Cut green onions into small pieces.Drain and finely chop red ginger.Cut the octopus into 40 equal pieces (1/2 inch).
②In a bowl, beat the eggs well and add cold water.Add TAKOYAKI flour in two or three parts and mix well.Use cold water to make the dough smooth.
③Heat a takoyaki pan over medium to high heat and add more oil to the holes and around the pan.Pour the dough into the hole up to about the seventh part.
④Put the octopus in one at a time.Add tenkasu (FRIED WHEAT FLOUR)
Sprinkle the green onions.Sprinkle red ginger all over.
⑤Pour the dough around the griddle.
⑥Wait for about 4 minutes.When the edges of the dough start to turn white, separate the dough along the holes.Turn the dough over to enclose the surrounding dough.
⑦Keep returning it so that it forms a nice sphere. Where there are holes, add batter to the holes.
⑧Switch locations to avoid uneven cooking.
⑨When the surface is crispy, it is done.
⑩Top with tako-yaki sauce, aonori, dried bonito flakes, and mayonnaise.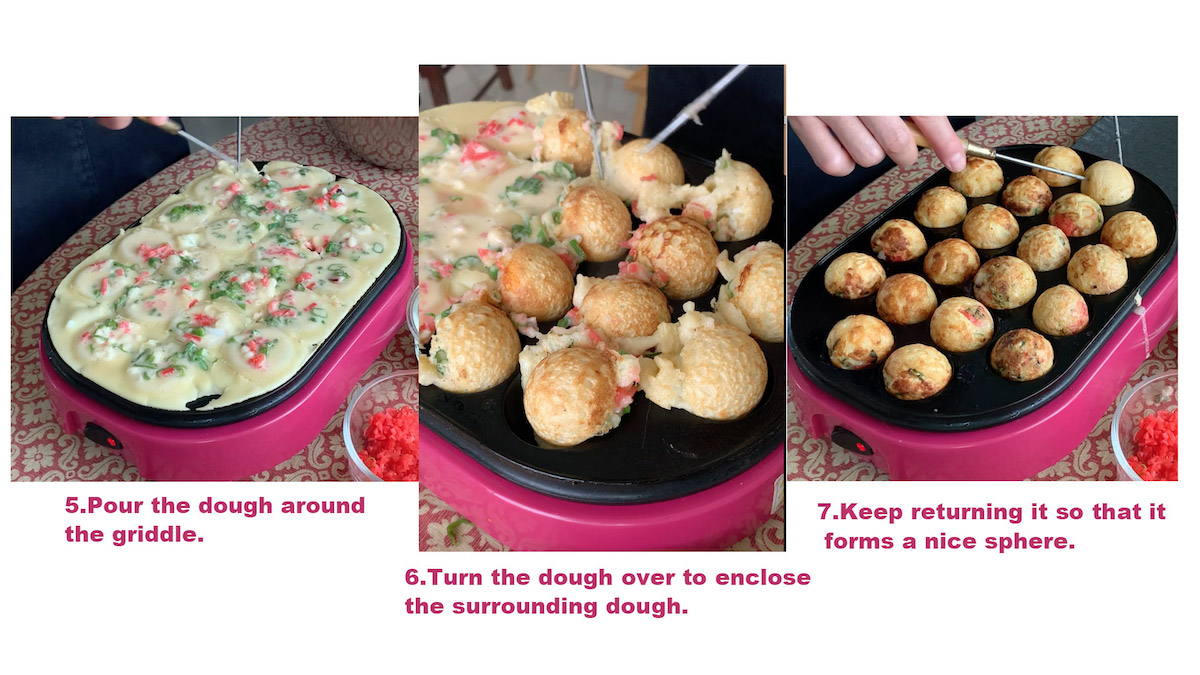 📌The dough should be a little watery to make the inside thick and the outside crispy.
📌No seasoning is needed if you use takoyaki flour with DASHI.
    ★  We used an electric takoyaki machine, but you can also buy fluorine-coated takoyaki pans at Tokyo Mart. For fluorine-coated pans, use bamboo skewers.⬇️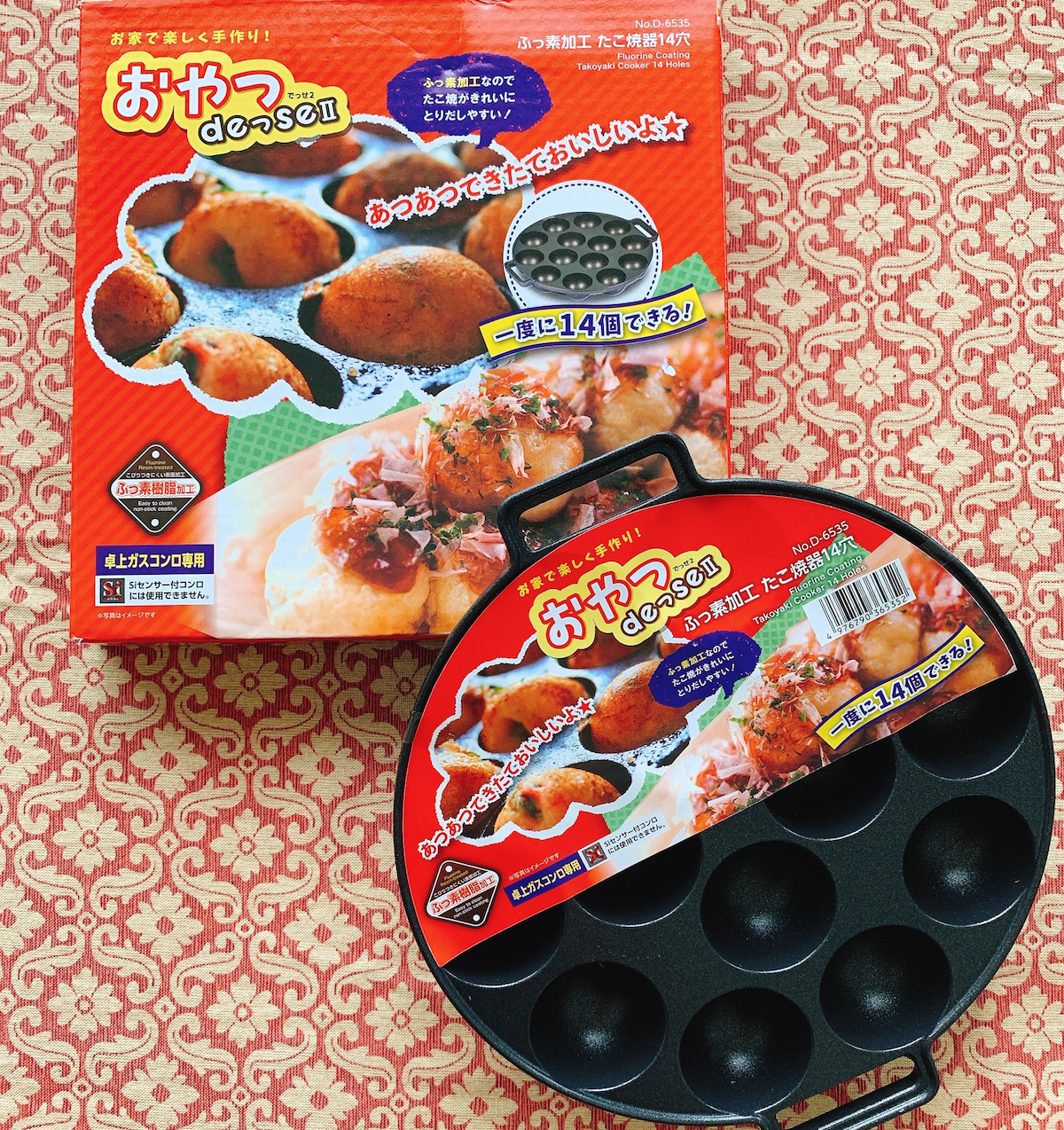 You can see recipes in the video as well.⬇️